Nexus was started by two quiz enthusiasts Venkatesh 'Venky' Srinivasan and Vivek Karthikeyan. With an aim of making knowledge fun and interesting for people of all ages, Nexus is today a well-known entity in Indian quizzing/literary circles. Our multi-talented and experienced research team is headquartered in Bengaluru, with associates across key Indian cities. We are also mainstays in the Indian open quizzing circuit, regularly setting and also taking part in quizzes.
Venkatesh S (Venky) is a well-recognised QM and has hosted several important quizzes across the country, including the Landmark Juniors Quiz, Mettle Meet, OakIQ, and Bizzare. 
When he is not hosting a quiz or anchoring a panel, Venky puts in all his energy into steering Nexus in his role of CEO and business head.
He is is an alumnus of IIM-Bangalore (Class of 2000). Prior to co-founding Nexus, Venky  gained diverse experience across the sales, marketing, and investor relations functions in organizations like Pepsico and Sasken.
He is an avid sports enthusiast and reads crime-fiction extensively.
VIVEK
CREATIVE HEAD
& CO-FOUNDER
Vivek Karthikeyan is a well-known face on the Indian open quiz circuit, as a researcher and question setter.
With a passion for designing new things, Vivek is the Creative Head at Nexus, and looks after products and operational excellence.
An alumnus of BITS-Pilani, Vivek worked for 18+ years in the Information Technology space in various customer support and customer advocacy roles before co-founding Nexus.
When he is not worrying about customer experience and puzzle formats, Vivek indulges in some of his other interests of painting and crosswords.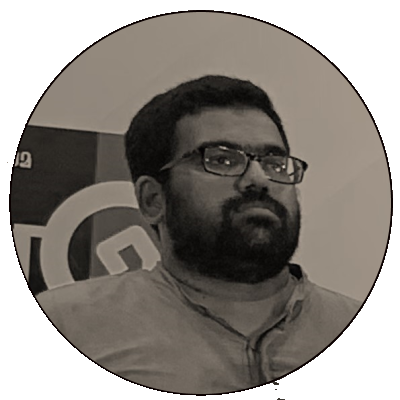 HRISHI
HEAD OF
CONTENT RESEARCH
Hrishikesh Varma, our Content Head is the glue that holds the madhouse together. 
A voracious reader both at work and outside, Hrishi pores over every piece of content and every question with a trained eye, besides overseeing all our TV engagements.
Hrishi keeps our research team on their toes and manages all our projects.
Hrishi has a BTech from the University of Calicut. He is a well-known quizzer who has won several prestigious events across the country, and he supports a middling football club from England's north west.